Here in the Age of the ZOGvirus these thieving shiteating swine are dying like shit-eating flies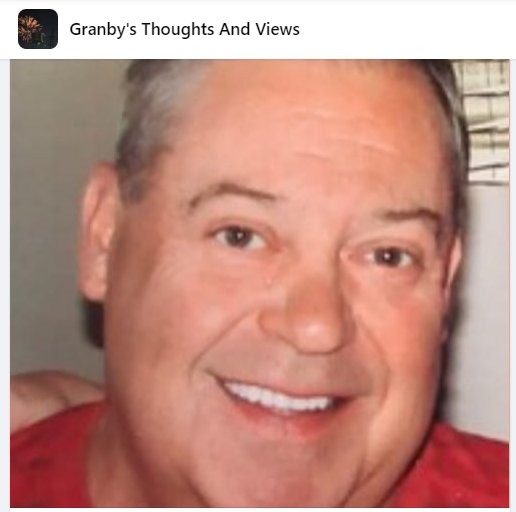 William 'Bill' J. Cooper, age 73 of Granby, Missouri, entered into rest suddenly on November 3, 2021.
Bill was born September 8, 1948 in Granby, one of four children to Everett and Corene (Wick) Cooper.
He was a lifelong area resident and a graduate of Granby High School, class of 1966. He worked in the automotive industry, working at Griffith Motors in parts sales and then as sales manager at Crowe-Burlingame until his retirement. He loved hunting and fishing and was a member of a local bass club and was an avid Nascar fan. He loved his hometown community and had served on the Granby City Council.
He was a member of the First Baptist Church of Granby. Bill married Lavonna Irene Mishler on January 4, 1990 and she preceded him in death on Jan. 3, 2008. He then married Karen Brown on October 10, 2008 at Bella Vista, Arkansas and she survives. In addition to Karen, he is survived by a daughter, Jenny Cooper of Joplin, Missouri; two grandchildren, Hunter and Emma Simkin; brother, Jerry Cooper and wife, Melanie of Granby, Missouri; stepson, Joshua Childress of Neosho, Missouri and sister-in-law, Elsie Cooper of Wichita, Kansas. In addition to his parents and wife, Irene, he is preceded in death by a brother, Robert and sister, Betty.
Funeral services will be held on Tuesday, Nov. 9, 2021 at 1 pm at the Clark Funeral Home, Granby, Rev. Russ Johnson will officiate. Interment will follow in the Granby Memorial Cemetery and those serving as pallbearers will be Jim Channel, Joshua Childress, Bobby Crowder, Dusty Johnson, Rex Budd and Todd Bertalotto. The family will receive friends Monday evening at the Clark Funeral Home, Granby, Monday evening, from 5:30 to 6: 30 pm.
In a little over three months three fat old stupid thieving Granby city council-criminals have croaked, maybe all or two of them from the ZOG-virus. This one above William "Baal" Cooper wasn't as bad as JoAnn Lamp or Joyce Mann because while fully as stupid and one of Crooked Evil Ira Hawkins' butt-licker sometimes sorta cared for the People of Granby every so often. Not very often and for a while was sick as a dog during the first [mal]administration of T-Rampageifer Gamble and missed most of the City Council Criminal Meatings in 2015 to 2016. But at least he wasn't the Baal-Priest [mis]representing Allieger-Martin Ashley Edgmon but rather one with this fellow retard from the North Ward R.L. Arnall who becum Mayor until his term was cut short by a North od Pierce City hackberry tree who gave its bark that Granby may prosper, cum-cum, cum-cum.
He told the voters when he displaced Ashley Edgmon that he was going to carry out the extremely stupid work of his fellow piece of shit R.L. Arnall — and so he did. Other members of the Granby Shitty Council deplored Baal Cooper and R.L. Arnall's self-serving stupidity and idiocy in thinking — like the majority of the Granby City Council-Criminals the past 40 years — that the City Government existed to fulfill theys' whims and wants using the power of a rogue city government.
But like every single mayor during the Richard Eutsler [mal]administration these inbreds at least gave a bit of a shit for the People of Granby who were literally theys' fambly if only a step-niglet grandchile. T-Rampage Gamble as mayor immediately worked to destroy the office of independent fire marshall and city collector so that they could let Jim Channel thieve and tell them what to do and to appoint a "she-mayoress" unable to do the book-keeping and unwilling to do the billing. Crooked Evil Ira Hawkins is even worse in saddling Granby with debt and increased infrastructure decay and bringing in $3.2 million debt to give Ashley Edgmon's Allieger-Martin kickback scam.
In fact, Baal Cooper voted against T-Rampage Gamble and Crooked Evil Ira Hawkins to vote to fire Paula Coursell as Granby City Clerk because she did books the old fashioned way and was unable or unwilling to learn Quicken. Baal Cooper and Richard Eutsler were against firing Paula and Baal Cooper was close to crying, but these council-criminals voted 2-1 to fire Paula, clearing the way for the "She-Mayoress" Lawna Price and the forced resignation of Sharon Stephenson as elected City Collector who acted as a check on financial corruption. Later in 2016 the Granby inbred tards voted to do away with [s]electing an independent City Collector. It turned out as expected, with the decay proceeding but now massive debt which will last for the next 40 years if ZOG lasts. It won't.
So Baal Cooper was the last of the old trad feebs who f#cked Granby in the traditional way of limited graft which merely bled Granby but didn't shoot it in the head. Baal Cooper lost by a few votes to First Synagogue Baal-Priest Ashley Edgmon then cum-cum back to regain his seat running on a Platform of Traditional Fuktardation and won. Then in the next year of 2015-2016 the sick old bastard didn't attend half the Shitty Council Meatings allowing T-Rampage Gamble who appointed Senile Heifer Joyce Mann and Bill-the-Buttlicker Barrett from the North Ward and Crooked Evil Ira Hawkins from the South Ward to shut down dissent, use its Granby Piglice Department to stifle dissent (mainly from myself) and raise the City Utilities while letting them decay because they wouldn't make Jim Channel work, and appointed Lawna Price as City Clerk while getting rid of an elected City Collector and Kevin Johnson as Fire Chief of the Volunteer Fire Department.
In short this traditional inbred didn't even do Granby City Council-Criminal Corruption the old fashioned way but rather simply didn't show up more than half the time. So as admitted the South Ward which has 940 registered voters opposed to the North Ward's 375 voters didn't have even [mis]representation but rather a series of 3-0 votes by Senile Heifer, Bill the Buttlicker, and Crooked Evil Ira following the witless largely drunken whim of T-Rampageifer Gamble from April 2015 to April 2017 in doubling the utilities, promising a "new Granby piglice station" (while cooniving to buy for $300,000 the Styron Eyesore) and letting the water and sewer lines decay for lack of maintainence in hopes of collecting contractard kickbacks.
So after only attending half or less of the Granby City Council-Criminal Meatings from 2015-2016 this old fat feeb ran again for Granby Shitty Council-Critter and for the next year once [s]elected this feeb attended even less!!! It got even sicker and by November 2017 didn't attend three meatings in a row and thus was forced to resign by T-Rampage and Crooked Evil Ira and the rest of the thieving retards. But in line with theys' corruption they were going to appoint another compliant Granby fuktard and not bother having a [s]election.